Shipments for the pharmaceutical and medical industry
DHL Medical Express is specially developed for transporting time- and temperature-sensitive shipments for the pharmaceutical and medical industry. Whether it's vaccines and medical supplies, or returning clinical supplies to central labs for analysis, we'll get your shipment started.
With our experienced specialists, we guarantee a safe flow of time- and temperature-sensitive shipments. DHL Medical Express provides fast and safe delivery of vaccines, medical equipment and investigational medicines. Clinical material and other hospital returns are carefully delivered to central labs for analysis.
The possibilities of shipping with DHL Medical Express:
Options for refrigerated and frozen shipments.
Dry Ice supply and replenishment if required.
Transport of biological materials, such as UN3373 category B.
Earliest possible delivery.
Standard Saturday delivery if required.
Special packaging options.
Expert customer service for booking and monitoring your shipments.
24/7 monitoring to quickly recover any incidents.
The benefits of DHL Medical Express
DHL Medical Express offers you the following support:
A central contact for the duration of the program.
Local contacts in each country where the investigation is conducted.
Compliance with local, regional or IATA regulations.
Possibility to make the recipient pay for the transport costs.
Quality Control Centers track your shipments during transport.
Earliest possible episodes.
Forwarding medical shipments and returning medical equipment.
Special support depending on the duration, locations, sensitivity and volume of shipments.
Own customs specialists to guide the import and export process.
The reliability of DHL Express with the worldwide network of aircraft and vehicles.
Take advantage of our additional services
Because every situation is different, DHL Express offers several additional services that can solve your shipping needs.
Insurance: Extra financial protection based on the true value of the contents of your shipment.
Packaging: Various temperature-controlled packaging for optimal protection of your shipment.
Refrigerated material: Dry Ice or gel packs with your shipment to control the temperature of the contents until delivery.
Billing: Flexible options for billing fees, charges, and taxes.
Smart Sensor technology: Monitoring the temperature of your shipments during transport.
For more information, please contact your account manager.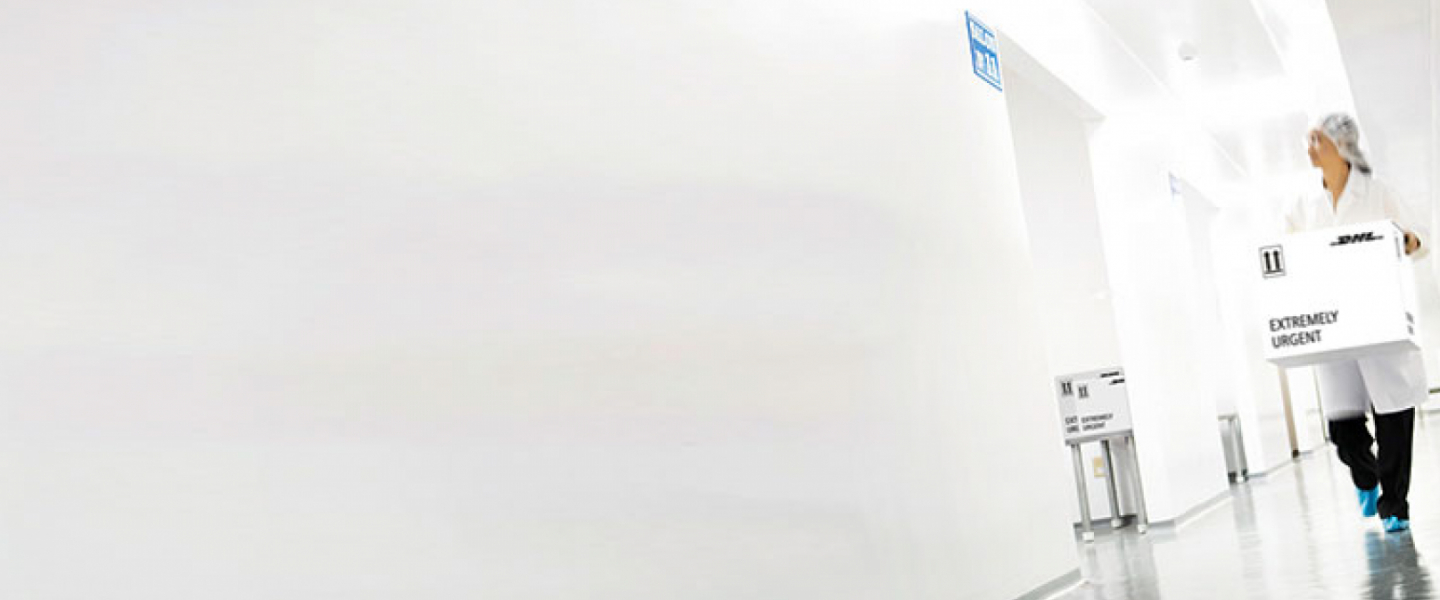 PACKING MANUAL FOR TEMPERATURE-SENSITIVE SHIPMENTS
At DHL Express we know how crucial it is to ensure a certain constant temperature for your shipments. That is why we have developed a comprehensive range of packaging solutions. Download the packaging manual for temperature-sensitive shipments.
Packing Guide
THE FUTURE OF LIFE SCIENCES AND HEALTHCARE IN LOGISTICS
Global health care spending is expected to increase by 4.3% per year. Along with growth, the industry is undergoing significant transformation in its operating models and supply chains. There is a sense of urgency to transform now; and supply chains play a crucial role in this transformation. Learn what trends and technologies are enabling this transformation in the industry's supply chains.
Supply Chain Trend rapport