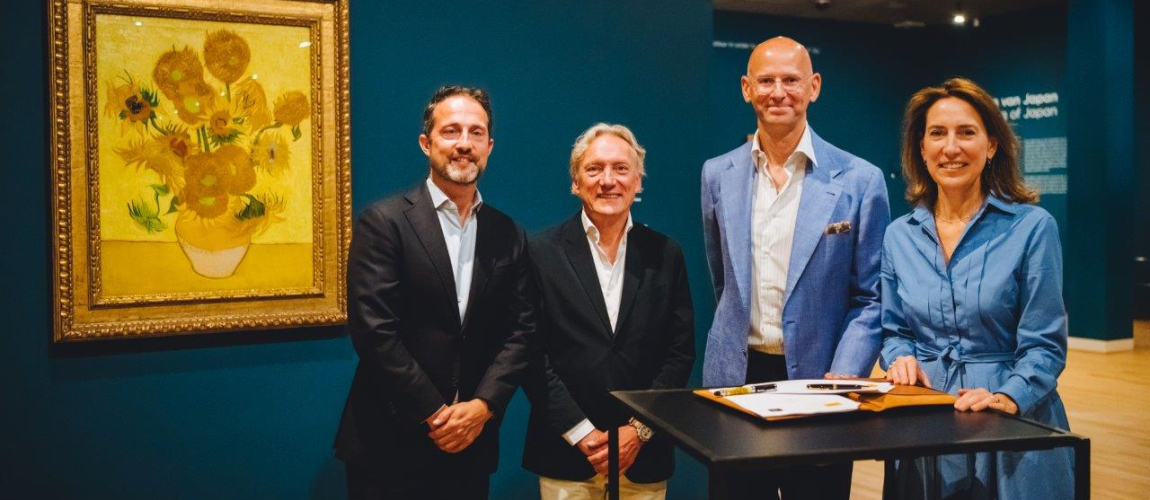 Photo caption: from left to right Ronald Leunisse, Managing Director DHL Express Netherlands, Willem van Gogh, Advisor to the Board of the Van Gogh Museum, Alberto Nobis, CEO of DHL Express Europe and Emilie Gordenker, General Director of the Van Gogh Museum in front of Sunflowers (1889). Credit: Jelle Draper
Amsterdam, Thursday 30 June 2022 - The Van Gogh Museum and DHL are taking the partnership globally after fostering a local partnership the last two years. Drawing on the educational experience of the Van Gogh Museum and the global reach of DHL, the partners will work together over the next three years towards the shared ambition of making a positive impact on the lives of new generations around the world through Van Gogh's masterpieces.
'It's incredibly special that we have been able to count on support from DHL, especially now in uncertain times,' says Emilie Gordenker, General Director of the Van Gogh Museum. 'I look forward to a successful collaboration in which the connecting power of art can make a difference to the lives of new generations.'
With this global partnership, the partners aim to inspire and connect children around the world, for whom (art) education is not always available or accessible, through the art and life story of Van Gogh as a medium. These children will learn about the painter's life and work as well as explore personal development topics such as discovering identity, chasing dreams and overcoming adversity. The programme will be launched this autumn with DHL providing full service shipping and logistics coordination.
'We are extremely proud to extend and develop our existing successful partnership with Van Gogh Museum. I believe art is an essential aspect of life, and it is a privilege for DHL to be a key partner in making it inclusive, connecting new audiences across the world with the incredible works of Van Gogh,' says Alberto Nobis, CEO of DHL Express Europe. 'In DHL we live by 'Connecting People. Improving Lives' and we are particularly excited about launching this new global teaching programme in September.'
Both companies value employability and education. As part of its sustainability roadmap, Deutsche Post DHL Group invests 1 percent of the Group's net profits in social impact initiatives each year. Through its GoTeach program, DHL supports children and young people by providing the building blocks for better employment opportunities. The Van Gogh Museum is known for its educational impact, developing interactive lessons and teaching resources for primary and secondary schools for decades.
In June 2020, DHL Express became the Official Logistics Partner of the Van Gogh Museum, handling all shipments from the Van Gogh Museum's web shop in a more sustainable way using DHL GoGreen climate neutral shipping. As a result, Van Gogh fans were still able to get close to his art at a time when visiting museums was not always possible due to pandemic regulations. From late June 2022 DHL will be main partner of the Van Gogh Museum, alongside ASML and Van Lanschot.